Welcome to the Kowen Trail Run trail marathon – where you can challenge yourself while taking in the scenic views! This page contains the following information:
race entry information
event program
course map
elevation profile
course description
race video
course relive video.
Please note: Our web server is not able upload GPX files onto the website. GPX files will be loaded onto the Kowen Trail Run Facebook page closer to race day.
Race entry information
To come.
Event program
To be advised.
Course map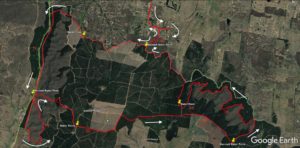 Elevation profile

Course description
Course video
 To come.
Course relive video
To come.